If you're in your 80s and find yourself without enough money saved to cover your final expenses, you may wonder what you're going to do? How will your loved ones afford to bury you and handle your other final expenses?
Did You Try Out Our Life Insurance Quote Comparison Tool? Save BIG!
It's not fair to leave your family with a financial burden, but you may feel like you have no choice if you don't have the money saved.
Fortunately, there's an answer – final expense insurance for seniors over 80. It may sound crazy to get life insurance when you're well into your senior years, but if you want to protect your loved ones, it's the way to go.
Funeral insurance for over 80-year-olds isn't as complicated as it seems. We break down the process and explain how it works for you below.
What is Final Expense Insurance for Seniors over 80?
Final expense insurance, also known as burial or funeral insurance, covers your loved ones when you die. While it won't leave them with a legacy, it is usually enough to cover the standard cost of a funeral and any end-of-life expenses.
FREE Quotes, No Obligations!
Most policies are for $2,000 – $50,000, and all policies, no matter the name, are whole life insurance policies. The term 'funeral insurance, final expense insurance, or burial insurance' are marketing terms.
All policies have a death benefit (the amount your beneficiaries would receive) and accumulate a cash value. But if you're taking the policy out in your 80s, there likely isn't much time to accumulate much of a cash value.
How Does it Work?
Funeral insurance or a whole life policy is a policy with a fixed death benefit and fixed premium. The amount you sign up for is what your loved ones will receive when you die. Your death benefit never changes, nor does your premiums.
Your policy won't expire because you're 'too old', and the account will accrue a cash value you can borrow from or withdraw if it gets high enough. If you withdraw the cash value, it directly reduces your beneficiaries' death benefit.
There aren't any rules regarding how your loved ones must use the funds. You can talk to them beforehand, letting them know the funds are to cover your funeral expenses, but the insurance company won't dictate how they use the funds.
Compare life insurance quotes and save!
Funeral insurance for over 80-year-olds is a guaranteed life insurance policy. This means you don't have to undergo a medical exam or even answer any health questions. This is good for seniors over 80 since most won't pass a basic medical exam or if they do, the premiums would be so high they couldn't afford it.
Since the policy is guaranteed, the premiums are higher than standard whole life insurance. Without underwriting your 'risk,' insurance companies must charge more to compensate for the early payout risk.
Understanding the Waiting Period
Because final expense insurance is guaranteed (no medical exam required), insurance companies take a significant risk. You could apply for insurance today and die next week, and they'd be on the hook for your death benefit.
That's why most policies have a waiting period. The waiting period is a 'cooling-off period' or time for the insurance company to earn your premiums. They won't pay out your death benefit if you die within the waiting period. Most companies, however, will pay back your premiums plus a percentage, usually 10%.
Let's say you paid $80 premiums for 14 months and then died. Your beneficiaries wouldn't get the death benefit on your policy, but they would receive $1,232, which is the total of the 14 monthly premiums plus 10%.
How to Get Burial Insurance Over 80
To buy funeral insurance for over 80, follow these simple steps:
Determine your final expenses
Final expenses include more than your funeral, although that's likely the largest part. Burial costs, medical expenses, and any debts you may leave behind. Total up how much you think you should leave your loved ones so they can comfortably cover all costs.
Assess your financial situation
Once you know how much money your loved ones will need to cover your final expenses, determine how much (if any) money you have set aside. If you have some money, you can deduct it from the total expenses you just determined. If you don't, you know how much life insurance you need. Most policies go up to $50,000, so keep that in mind.
Decide if you need a simplified issue or guaranteed issue insurance
Most seniors over 80 need guaranteed issue insurance for its lack of underwriting or even medical questions. If simplified issued insurance is an option if you're in excellent health and can answer basic medical questions without issue (no heart issues, cancer, or other chronic illnesses). You may save a few dollars on your premiums, but the premise of the coverage is the same.
Shop around for coverage
We recommend getting quotes from at least 3 companies. Most companies have an online application process, so getting answers is easy. You can then compare the offers side-by-side, determining which one offers the best coverage at the most affordable prices.
Choose the policy you want
Once you know the policies you have available, choose the one that's right for you and move forward with the company. Since there's no underwriting, you get coverage quickly.
Pros and Cons of Funeral Insurance Over 80
| | |
| --- | --- |
| Pros | Cons |
| Anyone can get a final expense insurance policy regardless of their age and/or health | The premiums are higher since there's no medical exam |
| The application process is simple since there's little paperwork/underwriting involved | There may be a 2-year waiting period; if you die within the first 2 years, your beneficiaries only receive the premiums paid plus a small percentage |
| The premiums remain the same for the life of the policy | The death benefit is usually low |
| Coverage never expires (as long as you make your premium payments) | If you don't pay the premiums, you lose coverage |
| You'll leave your loved ones with money to cover your final expenses | |
| Your beneficiaries won't pay taxes on the benefit | |
How Much Does Funeral Insurance Cost?
Like any insurance, the actual cost of funeral insurance for over 80 varies based on several factors, including your gender, age, and the amount of coverage. Here are some monthly sample rates:
Female age 80 $5,000 coverage – $50
Male age 80 $5,000 coverage – $68
Female age 80 $20,000 coverage – $194
Male age 80 $20,000 coverage – $262
The older you are or the more coverage you need, the more the rates increase. Since guaranteed insurance isn't based on your medical conditions, insurance companies focus primarily on your age and gender.
FAQ
What does a waiting period mean?
The waiting period is a time for the insurance company to make money on your policy before paying out a benefit. If they didn't have the waiting period, you could sign up for insurance today and die tomorrow. The insurance company would have to pay out the benefit with no waiting period. Most insurance companies would be out of business rather quickly if this happened, which is why they have waiting periods.
What is no waiting period life insurance?
Some life insurance companies have no waiting period life insurance. If you're sick or know you don't have much time left, you may want to pay the higher premiums for the no waiting period life insurance. Because of the higher risk, the premiums are much higher and the death benefit lower.
How much does a funeral cost?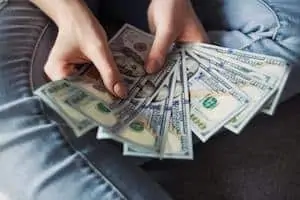 The average funeral today costs $6,000 – $10,000 but depends on the location and complexity of the service. You'll pay a lot more for the service if you have a wake and funeral, plus a cemetery burial, versus just a memorial service and cremation.
What are end-of-life expenses?
Your funeral and burial expenses aren't the only expenses to consider. Most people have medical expenses they incur right before they die, and others have debts they leave behind that they need their loved ones to cover as a part of their estate. All of this can be covered with final expense coverage.
Is Final Expense Insurance for Seniors over 80 for You?
Final expense insurance is a great way to ensure your loved ones have enough money to cover your final expenses. If you didn't save money throughout the years or had to spend it due to an emergency, this type of policy can provide your loved ones with the funds needed to cover your final expenses and not put them in financial distress.