Cremation may cost less than a traditional burial, but the cost can get as high as a burial, depending on the chosen services and other factors. Cremation itself costs an average of $3,500, but if you add funeral or memorial services in with the cremation, the cost can get as high as $14,000.
Did You Try Out Our Life Insurance Quote Comparison Tool? Save BIG!
Cremation insurance for seniors can help with the cost, but is it worth carrying? Keep reading to learn everything there is to know about cremation insurance.
What is Cremation Insurance for Seniors?
Cremation insurance is a final expense insurance for cremation. These policies don't leave behind a legacy for your loved ones. Instead, it covers the cost of your final expenses, in this case, cremation, but possibly a funeral too.
The policy coverage is typically much lower than other insurance policies, and they don't require a medical exam. Cremation insurance is a form of whole life insurance, which means the policy lasts for your entire life (if you pay the premiums).
How Does it Work?
One thing about this policy is the coverage amount never changes. Once you buy the policy, you're covered for life. There's no requirement for your beneficiaries to use the proceeds for your cremation, but if that's your final wish, it's what they should do.
FREE Quotes, No Obligations!
You can buy cremation insurance with a face value as low as $1,000 with some providers, and the policies rarely exceed $25,000 since they're supposed to cover final expenses only.
When you die, your beneficiaries file a claim on the insurance. Once they prove your death, they'll receive a payout rather quickly to cover your final arrangements.
But how much insurance coverage do you need? It depends on many factors. Here's what you must know.
How Much Coverage Do You Need?
Cremation insurance isn't a one-size-fits-all need. First, you must decide what final arrangements you want to help your loved ones cover. Do you want a direct cremation, a cremation with a viewing, or a cremation with a funeral?
These seem like morbid decisions to make, but if you make the decisions now, your loved ones can focus on other issues while grieving your loss.
Compare life insurance quotes and save!
Here's what you should know about the different services.
Direct Cremation
If you're trying to keep costs down and don't want a service, a direct cremation provides only the cremation services. The cost covers transferring the body, a simple urn, and the cremation process. The costs can generally run less than $1,000 but vary by location.
Cremation with a Viewing
If you want your loved ones to have time to say goodbye before the cremation, you can arrange for a cremation with a viewing. What this includes varies by the funeral home and what you want to spend.
Typically, the viewing is a couple of hours, and the body is slightly prepared (not as much as a traditional service). The viewing can cost up to $2,000 or more, depending on what you want to be included, and this doesn't include the cremation costs.
Full Funeral with Cremation
If you want the traditional services, including a wake and a funeral, that's possible too. You can end the process with cremation versus burial, though. Most people are used to a wake, funeral, and then a procession to the cemetery. If your final wishes include cremation, though, you can choose it with a funeral.
You can also have a full wake and funeral without viewing, but instead, have the urn present at both services. This option costs the most, with the funeral services adding up to $6,000 to the cremation costs.
As you can see, cremation can cost a lot of money depending on what final arrangements you want. Setting your loved ones up with cremation insurance can help them afford to honor your wishes. Here's what it might cost.
Does Burial Include Cremation?
Many people assume if they want to be cremated, it's included in the burial costs if they go that route.
It's not.
Cremation is a separate service, which is why carrying insurance is so helpful. Term life insurance may cover the cost of a burial and services, but the cremation adds to those costs and can take away from the funds you leave your family if you don't have cremation insurance.
What are the Cremation Insurance Costs?
Now that you know how much cremation costs, you need to figure out how to help your loved ones afford it. Leaving the responsibility to them isn't fair, so cremation insurance for seniors is often the right choice to help offset the costs.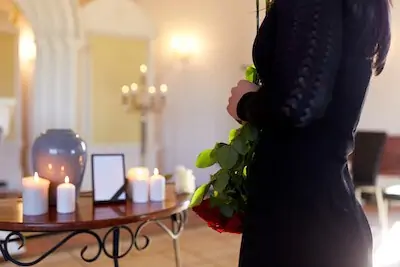 Fortunately, since cremation insurance coverage amounts are lower than typical life insurance, the premiums are often more affordable.
Like any insurance, the younger you are, the less the insurance costs. Since most policies are no exam policies, you don't have to worry about your state of health. Here are some quotes to help you understand the cost.
Female Cremation Insurance:
Here are some samples of female premiums for up to $10,000 coverage.
| | | |
| --- | --- | --- |
| Coverage | Age | Premium/month |
| $10,000 | 45 | $7-$22 |
| $10,000 | 60 | $11-$41 |
| $10,000 | 70 | $13-$53 |
| $10,000 | 80 | $22-$98 |
Male Cremation Insurance:
Here are some samples of male premiums for up to $10,000 coverage.
| | | |
| --- | --- | --- |
| Coverage | Age | Premium/month |
| $10,000 | 45 | $8-$27 |
| $10,000 | 60 | $11-$43 |
| $10,000 | 70 | $17-$74 |
| $10,000 | 80 | $30-$139 |
What Does Cremation Insurance Cover?
This policy is meant to cover the cost to cremate you and any final arrangements you want, such as a viewing or funeral.
There aren't any rules regarding how your loved ones must use the funds, though. Even though the limits are low (usually $25,000), your loved ones can also use the funds for any of the following:
Final medical bills – If you have any unpaid medical bills upon your death (most people do), they can use the funds to cover them.
Unpaid debts – If you have unpaid credit card debt or other personal debt, your loved ones can use the funds to settle them.
Travel costs – If you don't live near your closest family, you can include funds to cover their costs, especially for the executor of your will, who may need to visit more often.
Legacy funds – There isn't much room in cremation insurance for a legacy, but if you want to earmark a little money for a charity or other cause, you can.
What Doesn't Cremation Insurance Cover?
This all seems like the perfect solution, right? If you want to be cremated, you buy cremation insurance, and your loved ones have coverage no matter what, right?
Wrong.
There are some instances when they wouldn't have coverage.
Most, if not all, policies have a waiting period. Typically, it's 2 years. If you die within those 2 years, the insurance company does pay out on your policy. If they do, it's only a return of premium plus a small percentage (usually 10%).
Therefore it's important to buy the policy early in life. Waiting until you are sick or even old can put your loved ones at risk.
The Pros and Cons of Cremation Insurance for Seniors
Like any insurance, it's important to know the pros and cons to decide if it's right for you.
| | |
| --- | --- |
| PROS | CONS |
| You don't need a medical exam; everyone is eligible | There is a waiting period |
| The premiums are lower than typical life insurance, such as term life insurance | It doesn't leave your loved ones with income replacement or much else |
| The coverage is usually enough to cover any cremation costs | The premiums are higher than most other policies for much lower coverage |
How to Pay for Cremation without Cremation Insurance?
If you can't afford or don't want to pay for cremation insurance, there are ways to pay without it, including an option that allows you to cover the cost for your loved ones.
Prepaid Cremation
If you don't want insurance premiums, you can instead prepay for your cremation. You choose the details, including who does it. You work with the funeral home or cremation service to handle the process and pay today's prices, no matter when you die. Most companies offer full payment and installment payment options.
If you die before arranging anything and your loved ones don't have the funds to cover the cost, they can contact your local county and see what options they offer. Most counties provide free cremation (basic) services for those in need.
If all else fails, your loved ones can set up a GoFundMe or something similar to collect funds from friends and loved ones willing to help to cover the cost of cremation.
Cremation Insurance vs. Traditional Insurance – Price Comparison
Cremation insurance prices seem low, but how do they compare to your other options?
Term life insurance is usually the most affordable insurance option. Depending on the amount of coverage you want, your health, and your age, the premiums may be similar to cremation insurance premiums.
There's one major difference, though.
Most term life insurance policies require a medical exam, at least if you want the lowest premiums. You may find no exam policies, but you'll pay higher premiums for the coverage.
Burial insurance is similar to cremation insurance, except its intent is to cover the cost of your burial vs. cremation. The main difference between the two is most people aren't eligible for burial insurance until at least age 50, sometimes older. Because of the advanced age, the premiums are sometimes higher than you might get with cremation insurance if you secured it at a younger age.
Where to Buy Cremation Insurance Plans
AARP
AARP cremation coverage is backed by New York Life, one of the largest life insurance providers in the country. They offer coverage up to $25,000. You must be at least 50 years old to apply, though, so the premiums may be slightly higher than companies that allow you to buy a policy at a younger age.
Foresters Financial
Foresters Financial also offers cremation insurance. They don't specify what age you may be, and their coverage lasts until age 121. They are one of the top life insurance companies in the country with a 140-year history. They offer a variety of riders you can add to your policy to make it even more valuable, including accelerated death and accidental death riders.
AIG
AIG offers the lowest premiums for cremation insurance, but it comes with a 2-year waiting period which means if you die within those 2 years, AIG won't pay your full benefit, but only the premiums you've paid. AIG also offers a chronic illness and terminal illness rider to help cover medical costs while you're alive should you need the funds.
Is Cremation Insurance for Seniors Worth It?
It isn't worth it for everyone.
It depends on your situation.
Do you have money set aside to cover basic funerals? Do you have another policy that can cover the funeral and other arrangements?
If you answered yes to both, you wouldn't need cremation insurance. However, if you don't have money set aside or don't have any other policies, cremation insurance can be an affordable way to cover your final arrangements and not leave it on your loved ones.