Long application processes, health exams, and long waiting periods aren't what you want when you're ready for life insurance. You want a policy you can get over the phone or online and instantly, especially if you're retired or want to supplement your employer-provided life insurance.
Did You Try Out Our Life Insurance Quote Comparison Tool? Save BIG!
If you're looking for no medical exam life insurance, you have several options, but if you're looking for senior life insurance with no waiting period and assured coverage, you need guaranteed acceptance life insurance.
Here's everything you need to know about guaranteed issue life insurance, how it works, what it costs, and how you can get it.
What Is A Guaranteed Issue Life Insurance?
As the name suggests, guaranteed issue life insurance is guaranteed. You can't be rejected. There's no medical exam. There aren't even any health questions. If you apply, you get a policy. It's that simple.
Who's the best applicant?
Anyone with a debilitating health condition that wouldn't be eligible for a traditional life insurance policy is the ideal application.
FREE Quotes, No Obligations!
But there's a downside. It's expensive – the most expensive life insurance policy out of all your options.
Guaranteed Life Insurance Features
What can you expect from guaranteed life insurance? Here are the top features:
Guaranteed approval no matter your health situation (past or present)
Medical exams aren't required
No health-related questions
Instant approval
Take me to the comparison tool, I want to get the lowest rate right now.
How to get Senior Life Insurance with no Waiting Period?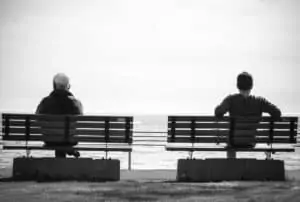 Typical guaranteed life insurance policies have a waiting period. It can be as long as 2 years. This means if you die within those 2 years, your beneficiaries receive little or no benefits. If they receive anything, it is usually the equivalent of the premiums you paid thus far, plus a small percentage (usually 10%).
Why is this waiting period?
Compare life insurance quotes and save!
Insurance companies have a waiting period to keep the terminally ill and who will pass away soon from purchasing the policy.
Insurance companies take a risk insuring anyone – the waiting period protects them from financial distress.
How does it Work?
Guaranteed whole life insurance with no waiting period means the full policy benefits are available after making the first payment. Because this is a risky policy, expect higher premiums, lower coverage amounts, and more difficulty finding a policy.
Here's how it works.
You don't need a medical exam. The insurance company also won't ask you any health questions. This means anyone can get coverage, even if they have cancer, a chronic illness, or other mitigating factors.
Not only does the no waiting period life insurance policy save you time, but it also helps those who would otherwise be ineligible for life insurance to get coverage.
Because of the higher risk, guaranteed life insurance policies with no waiting periods have different features than a typical policy:
Face values from $5,000 – $35,000
Eligible applicants are 50 – 80 years old
Whole life policies, which means you have coverage your entire life
The premiums remain fixed (they never change)
Not every agency offers a guaranteed life insurance policy without a waiting period, but plenty does. If you're ready to find the best deals on no-waiting period insurance policies, click here for your free quotes.
Have You Been Denied A Regular Life Policy?
Many applicants of no waiting period life insurance are those who've been denied a standard life insurance policy before but whose lives have changed since then.
For example, if you had cancer before but are now cancer-free and have been for several years, you may be a great candidate for a no waiting period life insurance policy.
What Is No Medical Exam Life Insurance For Seniors?
To put it simply, this type of life insurance does not require any kind of physical examination. Even more, they won't ask health connected questions. Besides the fact that these policies can help save time, they can also help some people get covered who could never pass an ordinary application process for life insurance policies.
These are some typical features of this kind of no-exam life insurance for senior citizens:
Face values typically range from about $5,000 to as much as $35,000.
Insurance companies usually offer these senior life insurance policies to people from about 50 to 80 years old.
These are whole-life policies, so they will stay in force as long as you pay the premiums.
Over the policy's lifetime, the premiums will not go up.
Over time, these kinds of policies might also grow a cash value, so you can consider those an asset.
Explanation of Waiting Periods For Guaranteed Acceptance Policies
Here's the best thing about guaranteed acceptance life insurance policies.
You won't be rejected.
So how do life insurance companies make money if they insure everyone who applies no questions asked?
The typical guaranteed acceptance life insurance policy has a long waiting period of at least 2 years (sometimes 4 years). Insurance companies don't payout on a claim until after the waiting period ends, meanwhile, they collect your premiums.
But, if you die within that time, the insurance company will refund the premiums paid plus a small percentage, giving your beneficiaries some benefit (but not much).
Why Buy No Medical Exam Life Insurance For Seniors?
This is a common question. Once you're in your senior years, why would you need life insurance?
Many seniors need/want the money to supplement their retirement. Others want/need it for their kids or family members to afford the final arrangements, yet others want to leave a cash legacy.
Since most seniors aren't eligible for typical life insurance policies, and if they are, the premiums are so high they can't afford them, a no medical exam life insurance policy for seniors makes sense.
While the premiums are high, anyone can pay the premiums, including the beneficiaries, making it easier for seniors to ensure their loved ones are protected.
The Difference Between Term and Whole Life Insurance
Most guaranteed life insurance policies are whole life policies. It's important to understand the difference between term and whole life to ensure you get the right policy.
Term Life Insurance
Provides coverage for a specific period
Offers terms of 10, 20, or 30 years
Protects your dependents should you die prematurely
You pay premiums on a monthly or annual basis during the selected "term"
Can fit your needs, time frame, and budget
Whole Life Insurance
Provides coverage for life
Includes a cash value (investment value)
Earnings on your cash value are tax-free
Insurance premiums never change
The death benefit is guaranteed
Cash value grows at a constant rate
Pros & Cons of Guaranteed Acceptance Life Insurance no Waiting Period
| | |
| --- | --- |
| Pros | Cons |
| You won't get denied for poor health condition | The premiums are typically higher |
| You have coverage instantly (after your first premium payment) | You can only qualify between the ages of 50 – 80 |
| You have coverage for life | The coverage amount is lower than a standard term or whole life policy |
| You don't have to answer health questions or take a medical exam | |
How to Get the Best Rates
Unlike standard life insurance or even simplified issue life insurance (you just answer health questions but have no medical exam), you can't negotiate your life insurance premium rates. Because you're getting guaranteed coverage, you're at the mercy of the life insurance company's rates.
But if you shop around, you can get the best rates. No two life insurance companies have the same policies or rates. We suggest getting quotes from at least three agencies to find the most affordable rates.
What's the Catch?
Everyone wants to know – what's the catch?
Having a life insurance policy without a waiting period and medical exam seems too good to be true.
There's no catch; you're on the right path if you understand there's limited coverage and the premiums are higher.
It's unlikely that you'll get life insurance for more than $35,000, but some companies offer as much as $100,000.
If you're in the market for higher coverage amounts with no waiting period, click here to get rates.
But, Consider This Plan Only, When
You have no other choice. This means one of two things:
You have a terminal illness and know you'll die soon
You have a long history of illnesses, injuries, or debilitations
You're over 50 years old and need life insurance
This is important.
It would be best to compare your guaranteed acceptance insurance options with your no medical exam insurance (simplified life insurance) options. The difference is the questions the insurance company asks you. With no medical exam life insurance, you'll answer a few health linked questions.
If you pass, you'll get much cheaper life insurance. If you can't, then guaranteed acceptance life insurance is your best option.
How Much Life Insurance can you get Without a Medical Exam?
This is an important question. Most applicants looking for guaranteed issue life insurance with no medical exam get lower coverage.
It's a good policy for burial insurance with no waiting period or to cover a simple expense. Most insurance companies offer coverage of $5,000 – $35,000 but not much more. The occasional company may offer up to $100,000, but those are few and far between.
The Best No Medical Exam Life Insurance Companies
Here are the top life insurance companies offering these policies:
TransAmerica – If you need a policy with no waiting period, TransAmerica offers two policies that pay out the full benefits right away, no two-year waiting period
AIG – Applicants ages 50 – 85 can get coverage right away, starting with policies of $25,000
Choice Mutual – Get coverage for final expenses instantly and without a waiting period or medical exam
No Medical Exam vs. Guaranteed Acceptance Coverage
No medical exam insurance also goes by simplified issue life insurance. You won't need a medical health check for the policy, but you will answer questions about your health. You won't get coverage if you can't answer the basic questions about your health (cardiovascular health, chronic health issues, or cancer). But if you haven't had any 'major' health issues in the past, you may get through it.
The difference is in the underwriting process, coverage, and when coverage starts, not to mention the premiums.
You may save money taking a simplified issue life insurance policy versus a guaranteed issue policy because guaranteed issue policies are guaranteed no matter your health situation. If you don't qualify for standard life insurance, a guaranteed policy guarantees coverage, regardless of your situation.
Understanding the difference and, most importantly, the higher premiums is important as you choose your life insurance options.
Click here to see the difference in premiums.
Does It Make Sense to Buy A Life Insurance Without a Physical Exam for Seniors?
Look at your situation.
Do you have current health conditions? Have you undergone severe health issues that cause life insurance companies to decline your application?
If so, it makes sense to buy life insurance with no physical exam for seniors if:
You don't have any policies set up to take care of your loved ones
You don't have money for your final expenses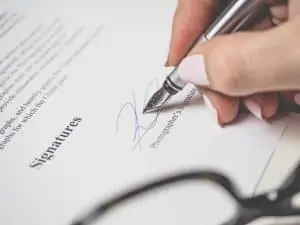 What are the benefits?
Less paperwork
No medical exams or questions
Faster coverage
The underwriting process is fast, and you can have coverage instantly. Even if it takes a few days to process your application and make your payment, you'll know you'll have coverage quickly.
This doesn't mean you should rush through your options, though. Take your time. Compare premiums, coverage options, and policy details. Look at your payment options and make sure you can afford the policy for the next 20 – 30 years.
FAQs
Am I eligible for life insurance with no physical exam and waiting period?
Yes, everyone qualifies for guaranteed acceptance no waiting period life insurance. Of course, most people can find less expensive life insurance with higher benefits better suited to their situation, but everyone can still qualify.
Can I qualify with previous health issues?
Yes, no matter your health issues, you are qualified for guaranteed acceptance life insurance with or without a waiting period. This is because there are no exams or health questions that are part of getting this type of insurance.
What does no waiting period mean for life insurance?
Guaranteed coverage without a waiting period means two things.
First, you automatically qualify – there's guaranteed coverage no matter your situation.
Second, there's no waiting period, so you get coverage immediately. As soon as you make your first premium payment, you have coverage. If you die a week later, your beneficiaries will receive the face value of your death benefit.
Do all life insurance policies have a waiting period?
Most life insurance policies have some type of waiting period. Fully underwritten policies may cover accidental or natural causes of death, but they won't cover suicidal deaths and other causes of death within the first two years. No waiting period life insurance, though, has no waiting period.
Alternatives to Guaranteed Acceptance No Waiting Period Life Insurance
The good news is there are alternatives. Even if you're 50 or older, you can get standard life insurance if you're in good health. If you can pass the underwriting process, you may get lower-cost life insurance and instant death benefits.
Comparing your options is crucial so you don't overpay for life insurance. Use our insurance comparison tool to start.