Planning for your loved ones can be one of the most loving gifts you give them before you die. Paying for the funeral ahead of time and planning everything takes a large load off their shoulders, not to mention it reduces the financial burden they may feel.
Did You Try Out Our Life Insurance Quote Comparison Tool? Save BIG!
Pre-need life insurance is one way to ensure your final arrangements are cared for. It's a very particular policy with many restrictions, though.
What is Preneed Life Insurance?
Preneed life insurance is insurance you buy to cover the funeral cost. But you don't buy it from an insurance agent. Instead, you buy it directly from the funeral home that will host your funeral.
You work with the funeral director to plan your funeral. You pay the amount needed to cover the funeral all at once or over a specified term. When you die, the arrangements are in place, and the financing is taken care of for your loved ones.
What Does Preneed Life Insurance Cover?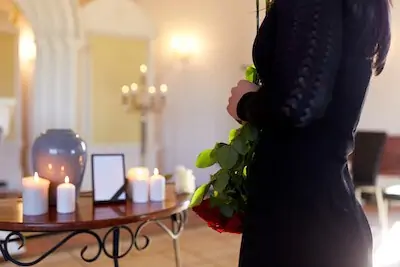 Preneed life insurance covers the cost of the funeral arrangements you made with the funeral director. There are two ways you can take out a policy:
FREE Quotes, No Obligations!
Guaranteed services – With a guaranteed services policy, you lock the rates in place when you buy the policy. In other words, whatever services you requested, your loved ones will pay the rates from the day you purchased the policy and not the inflated rates when you die. If rates increase significantly, your loved ones benefit because they don't have to pay the difference, but you'll pay higher premiums.
Non-guaranteed services – Your family may be responsible for the difference in service costs from when you bought the policy and when you died. Each policy has different requirements. Read it and understand what your family may be obligated to cover.
How does Prepaid Term Life Insurance Work?
A prepaid policy is one where the payments have been made in advance to expedite the services or coverage of the insurance itself. In most cases, the period of the prepayment is roughly one year, although there are cases in which the insurance was prepaid for a greater period.
This type of insurance that is prepaid for at least one year is considered an asset on the balance sheet of corporations who use such policies.
Preneed Life Insurance vs. Final Expense Insurance
Preneed life insurance and final expense insurance are similar because they both cover your final arrangements. However, preneed or prepaid whole life insurance is paid either in one premium or in a short time (usually no more than one year).
Final expense insurance has ongoing premiums for as long as you're alive. It's a plan for seniors to leave money behind to cover their final expenses, but you'll pay monthly as long as you're alive.
Who Should get Preneed Life Insurance?
If you don't have final expense insurance and won't qualify for it, preneed life insurance can be the next best thing. It's also a good idea for those who will feel more at ease knowing their final expenses are paid for and arranged, rather than leaving the burden on their loved ones.
Compare life insurance quotes and save!
A prepaid policy can be the answer if you are serious about using the money only for your arrangements. You won't leave money behind for your loved ones, though – all the money goes directly to the funeral parlor and any other services you prepaid for – there isn't any money that goes to your loved ones.
Preneed Life Insurance vs. Prepaid Life Insurance
Preneed and prepaid life insurance sound similar, but they have some differences too. Preneed is an agreement directly with a funeral director and other services. Prepaid life insurance, whether prepaid term life insurance or prepaid whole life insurance, just means you paid the premiums upfront.
Some people make a single premium payment, and others pay the full premium over time, but long before they die.
Both policies offer your loved ones peace of mind when you die because they don't have to come up with the money for your final arrangements. However, preneed insurance only works with the funeral director you already worked with rather than allowing your loved ones to go anywhere.
How Does Preneed Life Insurance Help Seniors?
This type of policy helps seniors in a variety of ways, especially if they are on a fixed budget and want to cover their burial expenses.
Simple, Direct Policy
Pays for the Full Cost of the Funeral
Relieves the Financial Burden for Families
Provides Direction for Arrangements
Refundable
The advantages can be found when purchasing the proper preneed policy. Keep in mind that most policies of this type are refundable if the wishes of the policyholder change.
FAQ
Can I prepay my life insurance policy?
You can prepay your life insurance policy. You have to work it out with your life insurance company. Each company has different guidelines, so find out what they require and if they charge any fees to change how you pay your premiums.
If you prepaid for your life insurance and then cancel the policy, the insurance company must refund the unused premiums. The insurance company will likely prorate the amount you paid, refunding the premiums that cover the future coverage that you won't have any longer.
The money you don't get back covers the premiums you used, aka the coverage you carried just in case you died.
Who Offers a Prepaid Plan?
Most insurance companies that offer burial insurance will have a preneed or prepaid policy.
Furthermore, many funeral homes offer a prepaid funeral plan as part of their services. You should start with your insurance company to see if they carry prepaid policies for their life insurance. The reason why most companies sell such policies is that the money is paid upfront for at least a year which qualifies pretty much anyone who wants this type of protection.
For seniors, the advantages of prepaid or preneed are noteworthy and need to be considered when thinking about burial costs. If you want to relieve the financial burden of funeral costs from your family, then having this type of life insurance is the best option for your needs.
Final Thoughts
Preneed life insurance is one way to ensure your loved ones are taken care of when you die. It takes not only the financial burden but also the emotional burden of planning a funeral off your loved one's shoulders.
If you don't want to be that specific about your final arrangements but want to leave your loved ones with money to cover the expenses, consider a final expense insurance policy for seniors.