Guaranteed life insurance, as the name suggests, provides guaranteed coverage. You don't have to undergo a physical exam or even answer any questions about your health. Most insurance companies offer guaranteed life insurance between the ages of 50 and 80-years old in amounts of $5,000 – $25,000.
Did You Try Out Our Life Insurance Quote Comparison Tool? Save BIG!
There's a problem, though.
It's expensive.
If you've ever called for a quote on guaranteed life insurance, you've likely had sticker shock and thought, 'how is that possible?'
Here are the top reasons why guaranteed life insurance is so expensive.
1. It's a High Risk for Insurance Companies
FREE Quotes, No Obligations!
Guaranteed life insurance means an insurance company insures you no matter what conditions you might have. If you die within 3 years of taking out the policy, they must pay the full death benefit to your loved ones. They take a significant risk, so they charge higher premiums to ensure they come out ahead.
2. It's for Seniors
Guaranteed life insurance is for seniors. Everyone knows that the older you are, the closer you are to the death of even natural causes. This also increases the insurance company's risk. If they were to compare the risk of a payout between a 30-year-old and a 70-year-old, the risk is much higher with a 70-year-old.
3. Insurance Companies Return Premiums Paid During the Waiting Period
Even though most guaranteed issue policies have graded benefits, which means your loved ones only get the premiums you paid during the waiting period, it's still a risk for them if you die during that time.
Compare life insurance quotes and save!
For example, you die 1 year after taking out a policy. The insurance company will pay your loved ones back all the premiums you paid PLUS a small percentage, usually 10% – 20%. This means the insurance company could have a loss if you die within the first 2 years.
4. There's No Medical Exam
No insurance company requires a medical exam for guaranteed life insurance. This means they don't have any medical professional's opinion about your quality of life or a prognosis for any major medical issues you may have.
Guaranteed Issue vs. Simplified Issue Life Insurance
As you shop for guaranteed issue life insurance, you might come across another form of guaranteed coverage called simplified issue life insurance.
Neither policy requires a medical exam, which is good for seniors who need coverage but might not qualify. But the prices differ quite a bit.
Here's why.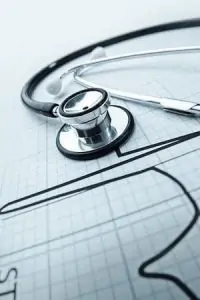 Simplified issue life insurance doesn't require a medical exam; however, you must answer some essential medical questions. You must be honest because the insurance company can easily find out if you're not telling the truth.
If you don't answer 'yes' to any of the questions they ask, which pertain to severe medical conditions, you can get covered.
Because of the 'guarantee' of sorts the insurance company gets when you answer the questions, the insurance company can charge you lower premiums for the insurance coverage.
On the other hand, the guaranteed issue policy has no guarantees for the insurance company. It's an absolute risk, so they pass the risk along to you in the form of higher premiums.
Final Thoughts
Guaranteed life insurance is the most expensive policy, but it can be worth it if it's all you can get and you need the coverage.
Make sure to shop around to find the lowest premiums available to you, and don't buy more coverage than you need. If you are unsure, here are the alternatives.
Most seniors use guaranteed policy as coverage for final expenses. This can be helpful if you went through any savings you had to cover final expenses, or you had a previous life insurance policy that has since expired, but you want to leave your loved ones with enough coverage so they can grieve in peace.