Considering a life insurance policy should be a priority if you are a senior over 80. This life coverage can cover expenses such as outstanding debts and funeral expenses and help preserve your family's financial stability.
Did You Try Out Our Life Insurance Quote Comparison Tool? Save BIG!
Seniors over 80 often don't think about their need for life insurance. Most seniors don't have a 'ton' of debt, so they figure they don't need to pay for life insurance.
But, if seniors don't have money put aside for their final expenses and/or they die with liabilities or a large estate, life insurance will be one thing their loved ones need to protect them financially upon passing.
Why Do Seniors over 80 Need Life Insurance?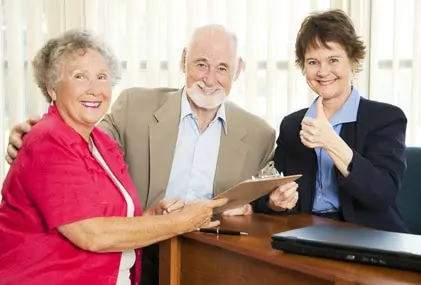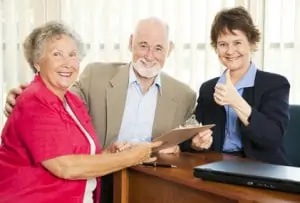 Seniors over 80 often figure they're fine – they don't need life insurance. However, they forget the high cost of their final expenses. Even if a senior dies with no mortgage or other large debts, a funeral can cost $10,000+. That's not to mention the end-of-life costs, whether the senior is in the hospital, a nursing home, or needs special care.
FREE Quotes, No Obligations!
A matter of fact is:
The health of seniors naturally declines as they age. They can't do what they used to, which may include taking care of their daily needs. Medical care, medications, nurse visits, or extensive doctor visits have become the norm, and they all come at a price. Medicare doesn't cover everything, leaving seniors with plenty of liabilities in their later years.
Life insurance does two things – it provides your loved ones with financial protection to cover your expenses upon your passing. It may also provide living benefits should you become critically or chronically ill and need financial support.
What is the Best Life Insurance for People over 80?
This would be the policy you can afford and will provide the loved ones (or even yourself) with the necessary funds to cover the end of their lives.
Most seniors choose a final expense life insurance policy. This policy covers a senior's funeral and burial expenses plus any end-of-life expenses, such as hospital care. Burial insurance for seniors over 80 is the most popular for a few reasons:
Compare life insurance quotes and save!
It's affordable
There's no medical exam required
Everyone qualifies
Remember that most companies allow maximum coverage between $10,000 – $25,000. It's not enough to leave behind a legacy, pay off a mortgage, or support a dependent for many years. Many seniors are already financially set but need coverage for their burial expenses.
Final expense insurance is a whole life policy (aka permanent). It accrues a cash value, but at 80 years old, the chances of it accruing to anything useful before you pass away are slim, so don't rely on the cash value.
You must request Life Insurance Quotes online to get the best rate. Click here to start the procedure for free.
Know the Funeral Cost
In most cases, a funeral will cost between $7,000 and $10,000. A funeral might cost more if your family spends more on the floral arrangement or the ceremony. Having a large family attend the funeral can cause the price to go up. Passing away without leaving enough money to cover the funeral cost would burden your family. Having to arrange and pay for a funeral in a short amount of time can be stressful.
Covering the Cost Of Your Funeral
Don't let your family pay for your funeral. You can help them by subscribing to an insurance policy covering these expenses. The right policy will help secure the financial security of your surviving spouse, and your children or grandchildren won't have to come up with the money needed for the funeral.
Other Life Insurance Options for the Elderly Over 80
If you need more than burial insurance, you have two options – term and whole life insurance for seniors over 80.
Term life insurance is a temporary policy that most young people get because it's affordable and provides coverage for a specific term. It's commonly used to cover when a person has a mortgage or when the children are home and dependent on their parents.
Term insurance for seniors over 80 works a little differently. Insurance companies take a risk when they provide term life insurance to seniors. Most companies limit your options to 10 years maximum. The policy expires if you're alive after 10 years, so it's not always the best idea for seniors. Most term life insurance policies also require a medical exam, making it hard for seniors with health issues to qualify.
On the contrary,
Whole life insurance is a permanent life insurance policy that lasts your entire life. It's usually much more expensive than term or final expense insurance because of the cash value that accrues. It has a death benefit, like a term policy, but also accrues a cash balance that earns interest.
Interestingly:
Most seniors looking at whole life insurance choose a simplified issue or guaranteed issue policy. Neither option requires a medical exam (which is important for seniors). The simplified issue policy has a few medical questions seniors must answer to qualify. The guaranteed issue policy doesn't have any questions but is more expensive because of the guarantee (everyone gets approved).
What to Consider
Consider your needs if you're looking for the best life insurance for seniors over 80. Why are you looking for life insurance?
Here are common reasons:
You have a dependent who lives with you and depends on you financially. This may be a child with special needs, an adult child who had a rough time in life, or someone else you've taken under your wing.
You have cosigned loans. If you still have outstanding debt in your name (and someone else is on it), you can leave money behind to pay off the loan rather than leave them liable.
You don't have money set aside for your funeral. We all die at some point; at 80 years old, it's inevitable sooner rather than later. Burial insurance is a popular choice.
You want to leave a legacy. Some people need to leave money behind for their beneficiaries.
How to Qualify
The best option is life insurance over 80 with no medical exam. This removes the burden of passing a medical exam. Most life insurance companies won't insure seniors over 80 if they have serious medical issues, which is common as you age.
A no medical exam life insurance policy, such as burial insurance or guaranteed issued life insurance, is much easier to qualify for. You'll pay higher premiums no matter the type of policy you choose because of your age, so it's best to find the policy that offers the most coverage to meet your financial needs.
What's the Cost?
Understanding the different costs will also help you choose the most suitable life insurance for people over 80.
Here are some sample rates:
10-year term life insurance policy – Male – $900/month for a $250,000 policy and female $685/month for a $250,000 policy
Simplified issue whole life insurance policy – Male – $130/month for a $10,000 policy and female $100/month for a $10,000 policy
Guaranteed issue whole life insurance policy – Male – $250/month for a $10,000 policy and female $200/month for a $10,000 policy
Here's how much a female over 80 years old pay on average for life insurance.
Is Graded Life Insurance A Good Option?

If you are over 80, a graded premium policy could also be a good choice. You would not qualify for the entire death benefit if you were to pass within two or three years of purchasing the policy. Once the policy has matured, your family will receive the full death benefit.
The 2018 National Vital Statistics report shows that the average lifespan in the U.S. is 79 years, which means that insurance providers do not really target clients over that age.
A graded insurance policy is a good option since your benefit will correspond to your spending on premiums plus interests. You can qualify for a plan with an interest rate between 4% and 10% if you are over eighty.
Buying Life Insurance for Senior Parents
Sometimes seniors aren't capable of buying their life insurance. Whether they can't afford it or can't handle the decisions involved, you can purchase life insurance for parents over 80, but there are rules.
Your parents must be involved in the decision and sign the application. You can't buy a policy without their consent.
There can only be two parties involved to avoid excess taxation. If you buy the policy, you are the policyholder, and your parents are the insured. If they choose someone else as the beneficiary, that could cause tax issues, so make sure the beneficiary is also the policyholder.
Health Issues Can Raise Your Premiums
You can secure affordable premiums if you don't have any major health problems. You should be able to find a life insurance policy for those over 80 with a low premium if you did not undergo major surgery recently and have not been diagnosed with a serious medical condition.
But you will probably have to pass some medical tests (such as nicotine, urine, etc.) and prove that you don't smoke or consume alcohol.
Quit Smoking and Drinking Habits
Drinking or smoking regularly can have negative consequences on your health. You can secure lower premiums for your life insurance plan if you quit smoking and drinking 12 months before applying. Premiums will likely be a little higher if you apply before a full year. Your body won't be able to recover quickly if you become sick.
Quitting smoking and drinking will help you stay healthier besides making life insurance more affordable.
What If You Have Minor Health Problems?
Suffering from a minor health condition should not impact your premiums. If you have a condition that could affect your premiums, it might be worth it to purchase a no-exam plan. You are guaranteed to be approved for his type of policy, but premiums are usually more expensive.
Should you go after a guaranteed issued policy?
Consider purchasing a no-medical guaranteed acceptance policy if you think you won't qualify for lower premiums after taking a medical exam. You will be able to buy decent life coverage without any tests, and the premiums will be more affordable if a health condition would otherwise prevent you from securing low premiums.
Get free insurance quotes from us and compare them before making the final decision.
Companies that Provide Life Insurance for Seniors
It can be time-consuming for a few people to find affordable senior life insurance, but a few companies offer great affordable options, including:
Mutual of Omaha
Mutual of Omaha sometimes provides term life insurance up to age 80. They also offer a Living Promise policy and final expense insurance for seniors up to age 85.
Transamerica
Transamerica offers a wide variety of insurance products for seniors over 80, including funeral insurance, term life insurance, and immediate solution (guaranteed life insurance).
Foresters
Foresters offers life insurance for those over 80 with no medical exam with its simplified issue policy. Seniors are eligible up to age 85 and can take out a policy up to $35,000, which is excellent for final expense insurance.
AARP life insurance for seniors over 80 isn't directly from AARP. They work as a broker, matching you with insurance companies that offer products you may qualify for in your senior years. The rates are often lower because of your membership with AARP. But what would you do after reaching your 80th birthday? Here it is.
Finding the Best One
Take your time when finding the best life insurance for seniors over eighty. There are more options than most people realize, but it's easy to fall for a scam. Let a loved one help you choose the right policy for you.
If you're an adult child buying life insurance for parents over 80, talk with your parents about what they want and find the policy that suits everyone's needs, protecting your parents and their dependents/beneficiaries upon their passing.
How Can I Compare Prices Online?
You should request quotes from a few different insurance providers to compare premiums. We can help you in finding the most affordable policy and no obligation.
Click here to request free quotes. You can save as much as 70% on your premium by shopping around and comparing quotes with us.