Most life insurance companies require a life insurance health screening before they'll insure you. It's a source of stress for most people because they worry about passing or not.
Did You Try Out Our Life Insurance Quote Comparison Tool? Save BIG!
Is it hard?
It depends on the type of insurance. Some policies don't require a medical exam, and they need you to answer a few medical questions. Some require a full-blown paramedical exam.
So yes, it can be challenging, but there are ways to prepare for the life insurance exam and/or get around the exam if you know you won't pass one.
Here's what you must know and some important tips to follow.
FREE Quotes, No Obligations!
The Types of Life Insurance Medical Exams
You may need two types of medical exams when applying for life insurance.
Physical Medical Exam (Paramedical Exam)
The paramedical exam combines a physical exam and a verbal questionnaire. You'll answer the questions first, and then the insurance company will send out a life insurance examiner to conduct the medical exam.
The life insurance health screening is usually done at home or your office. It's non-invasive and usually takes 30 minutes or less.
Before the life insurance company sends someone out, they'll ask questions about your height and weight, any current medical issues, drug or alcohol use, whether or not you smoke, and questions about your family's medical history.
Once you answer these questions and you seem to be a good fit for the policy, they'll send out a medical examiner to do the following:
Compare life insurance quotes and save!
Measure your height and weight
Take your blood pressure
Take blood samples
Ask you to pee in a cup
Verbal Medical Exam
Suppose you apply for a simplified life insurance policy. In that case, you can skip the physical medical exam but must answer a few questions to ensure you're a reasonable risk for the simplified insurance policy.
The questions vary by the life insurance company, but here are some examples of what they might ask you.
Do you need assistance with daily activities such as dressing, bathing, or eating?
Do you have or have you ever tested positive for HIV?
Have you been diagnosed or received treatment for cancer in the last 24 months?
Have you been diagnosed or treated for Alzheimer's disease or dementia?
Have you been diagnosed or treated for cirrhosis of the liver?
Have you been diagnosed or treated for COPD?
Are you currently in a hospital, nursing home, or correctional facility?
If you prove you aren't an immediate risk, meaning you'll likely die soon because of a chronic illness, you may pass the exam for a simplified policy and won't require a physical exam.
How to Pass Life Insurance Medical Exams?
The bigger question now is, how do you pass life insurance medical exams? What do they look for in your results?
Overall, insurance companies are looking for results that show you are in decent health and aren't at immediate risk of dying. Life insurance companies take a stake in insuring you. They want to minimize their risks to be able to stay in business and profitable.
Every life insurance company has different requirements, but here's what they most commonly look for:
High cholesterol – If you have elevated cholesterol levels, you'll be at a higher risk of heart disease or stroke, both of which are red flags on a life insurance policy since your risk of death is elevated.
High blood pressure – High blood pressure is another indication of a high risk of heart disease or stroke.
High glucose levels – Elevated glucose could indicate that you have diabetes or are at risk of having it, which increases your risk of premature death.
Elevated liver enzymes – High liver enzymes could indicate excessive drinking, leading to other health problems.
HIV or hepatitis – If you have HIV or hepatitis, you are at a higher risk of premature death.
Nicotine – Smoking doesn't automatically decline you from life insurance, but it can cause you to pay higher rates because of the health problems smoking can cause.
Drug use – If you use recreational drugs, it's usually an automatic decline for a life insurance policy.
How to Prepare for Medical Exams to get the Best Results
While you can't change your health factors overnight, there are some ways you can prep for the life insurance medical exam ahead of time. The earlier you prepare, the better your test results will be and the higher your chances of approval/lower premiums.
Eat Healthily
While you should always eat a healthy diet, eating a diet rich in fruits, vegetables, and lean proteins before a life insurance exam is important. Try to avoid foods high in salt or sugar or excessive amounts of fat.
Make your plate look like a rainbow, eating as many colors as possible. Your focus should be on fruits and vegetables, with about 25% of your plate consisting of lean proteins.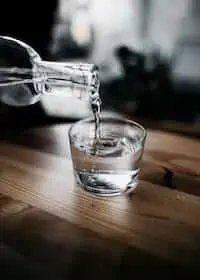 Drink Plenty of Water
Hydration is the key to good overall health – all your organs depend on it. At least a week before your exam (earlier if you can), drink 6 – 8 glasses of water daily. This helps clear out toxins from your body and increases your chances of better blood and urine test result.
Skip the Alcohol
At least a few days before your exam (more if possible), stop drinking alcohol because it does two things that could ruin your test results:
Causes dehydration
Elevates your liver enzymes
Try to Quit Smoking
Although life insurance companies look back at your smoking habits for the last 3 – 5 years, you'll get lower premiums if your nicotine levels are low when you test. Try quitting or cutting down in the months leading up to your exam.
Don't do Strenuous Exercise
Skip any strenuous exercise 24 – 48 hours before your medical exam. It can increase your blood pressure and your urine protein levels. Instead, stick to walking or yoga if you need to exercise before your exam.
Get a Good Night's Rest
Sleeping is vital to ensure your blood pressure and pulse rates are low. Medical exams can be stressful themselves, so you need all the help you can get to keep your vitals level.
Who Pays for Life Insurance Medical Exams?
It sounds like you have to go through a lot to get life insurance, but the good news is you don't pay for it.
Life insurance companies foot the bill (with your premiums) to cover the cost of paramedical exams. That's why sticking with the insurance company you choose is essential. Getting quotes from several companies is acceptable, but don't move forward with a company until you are sure about accepting their policy.
Can you get Life Insurance Without a Medical Exam?
If you're reading the guidelines above regarding the life insurance health screening and thinking you would never pass one, you might need a no-medical exam life insurance plan.
The good news is you have options.
As we talked about earlier, there is a simplified life insurance plan. This option doesn't require a physical medical exam, but you must answer specific health questions to determine your eligibility.
If that's not an option, there's one more way to get life insurance.
A guaranteed life insurance plan doesn't require any medical exams or questions. The premiums are higher and the coverage lower, but you can get coverage even if you have cancer, high blood pressure, or a recent heart attack.
Guaranteed life insurance plans are permanent life insurance policies that last for your lifetime as long as you pay the premiums. As we said, the premiums are higher, so pay attention to what you can afford. For example, you wouldn't use this policy to leave a financial legacy, but it could be suitable for final expenses or cover a specific debt you might leave behind.
What Happens if you Failed the Life Insurance Exam?
There is such a thing as failing the life insurance exam, but what's more likely is that you'll get approved with conditions and higher premiums.
Completely failing the exam means you can't get life insurance traditionally. You'd likely have to get guaranteed life insurance with higher premiums and lower coverage.
But not getting the 'best results' doesn't mean you can't get life insurance.
Life insurance companies have ratings. Each company rates individuals differently, but they start with someone in perfect health and then go on.
For example, if you're a smoker, you're automatically put in the smoking category, but there are levels within that too. You can be a smoker in excellent, good, or fair health. The lower down the scale you go, the more it will cost.
If you're denied coverage, you have a few options.
Employer-sponsored life insurance – Employer-sponsored life insurance is a group policy and doesn't require specific qualifications. Anyone that works for the company and qualifies for benefits can get covered. The policy won't be for as much as you'd likely need, but it's a start.
Get a copy of your report and go to the doctor. Review the report with your doctor and see how to improve your results. For example, if you have high blood pressure, you can address it with your doctor, improve it, and try again.
Work with an insurance broker – Some insurance brokers can access life insurance companies that work with people in less-than-perfect health conditions. It may be easier to find an appropriate policy this way.
Can you Retake the Life Insurance Exam?
You always have the option to retake the life insurance exam, but the question is when.
If you want to retake it to lower your premiums, you may have to wait 6 months or longer. It varies by the life insurance company. But if you want to retake it to get approved or get a different insurance policy, you'll likely have to go to another insurance agency to retake the exam and see what you can get.
FAQ
How long are life insurance exams suitable for?
Every company has different rules, but paramedical exams are generally good for 6 – 12 months. If you don't decide within that time, you'll have to undergo the process again. A lot can happen in 6 – 12 months, so insurance companies require you to retake the exam if you don't take a policy within that time.
Are life insurance medical tests hard to pass?
They aren't hard to pass if you stay on top of your health and know where you stand. You just need to prove you aren't at immediate risk of premature death. Most people' pass' the test; it just comes down to how much they charge you for premiums based on your health condition.
What drugs do life insurance companies test for?
Life insurance companies are looking for any type of recreational drug usage. In some states, there may be exclusions for marijuana, though. Always check with your life insurance agent and be honest with them about your situation. They will always learn about drug use, so honesty is always the best policy.
Can you apply results from one life insurance application for another policy?
Most life insurance companies have their own application policy and require you to undergo another medical exam if you switch companies.
How does COVID-19 affect life insurance exams?
As we still figure out our new way of life, you may find that some life insurance companies forgo the paramedical exam except in extreme situations. Many insurance companies, however, are back to bringing examiners to your home or business. Still, they require everyone to wear a mask and take other necessary precautions based on the rates in the area.
Final Thoughts
Passing a life insurance exam isn't as scary as it sounds. You should be in good shape if you go for regular checkups with your doctor and know your health conditions. If you have serious health issues, you may want to choose a guaranteed life insurance policy so you know you can get covered.
If you have some health issues but not enough to prevent you from getting approved, see what life insurance companies offer. Take advantage of the tips above to help you best prepare for the life insurance exam and see what life insurance you can get.