As you think about your final arrangements, you may consider paying for your services in advance, including cremation. This is one way you can take care of your loved ones, knowing that your final arrangements are cared for, especially if you didn't purchase life insurance.
Did You Try Out Our Life Insurance Quote Comparison Tool? Save BIG!
But is it a good idea to pay for cremation in advance? Let's look into it.
How do you Pay for Cremation in Advance?
Before deciding if you should pay for cremation in advance, you must know how it works. The exact process will vary based on the location and company you choose. Still, overall, you can work out a plan with the crematory to either pay the total cost of cremation upfront or create an installment plan that you pay monthly or in any increment you decide.
Many facilities offer a discount if you pay for the funeral in full, plus you get the benefit of paying today's prices versus future prices, which are subject to inflation. If you spread your payments out over an installment period, you may pay slightly more for the convenience.
But before you pay for your cremation in advance, consider the options.
FREE Quotes, No Obligations!
What options do you have if you Pay for a Cremation in Advance?
Direct cremation – You can choose a basic or direct cremation which only includes the cremation service, transportation of the body, and a cremation container. This is the least expensive option but also the most basic.
Cremation with a service – If you want your loved ones to have a little closure, you may prefer cremation with a memorial service. This package includes everything in a direct cremation plus a memorial service or mass for your loved ones.
Cremation with a funeral – If you want the complete package, this package usually includes all funeral services, including embalming, a casket, and body preparation. This option is the most expensive one.
You can also get cremation insurance up to age 80, and by paying a premium monthly, all costs for cremation will be covered.
Can you Prepay for a Funeral or Viewing?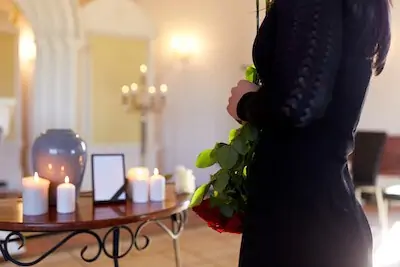 A funeral or viewing isn't required for cremation, but some people prefer it or feel like there was not enough closure. If you want to include either viewing or a funeral in your services, most facilities allow you to prepay for them too.
Just be careful; not all crematories offer services – you may find that you have to work out a plan with both the crematory and funeral home in some locations.
Should you Prepay for your Cremation – What are the Benefits?
The bigger question is should you prepay for your cremation?
Here are some benefits to consider.
Compare life insurance quotes and save!
You may save money. If you pay for the cremation and/or service in full, you'll likely get a discount, plus you're paying today's prices which are usually lower than future prices.
You take the burden off your loved ones. Your loved ones will be grieving your loss, and if the arrangements are made and paid for already, you give them one less thing to worry about in their time of grief.
You know your wishes will be honored. If you prepay for the cremation, you know your loved ones will follow your wishes.
You can die peacefully. Knowing you have taken care of your final arrangements can make you feel less stressed, knowing your loved ones don't have to deal with the burden.
There is something you should consider, though.
What is the prepaid cremation policy? Every facility will have different policies, so don't assume it's a one-size-fits-all approach. Read the fine print and compare offers from different facilities to find the one you are most comfortable with and charges the best prices.
Final Thoughts
If you don't have life insurance in place to cover your final expenses, prepaying for your cremation is a nice gesture for your loved ones. It takes the burden off of everyone, especially during your last time here on Earth. If you'd rather have your loved ones be with you and spend your last minutes together rather than scrambling to make arrangements, prepaying for your services can be one of the best ways to ensure this.